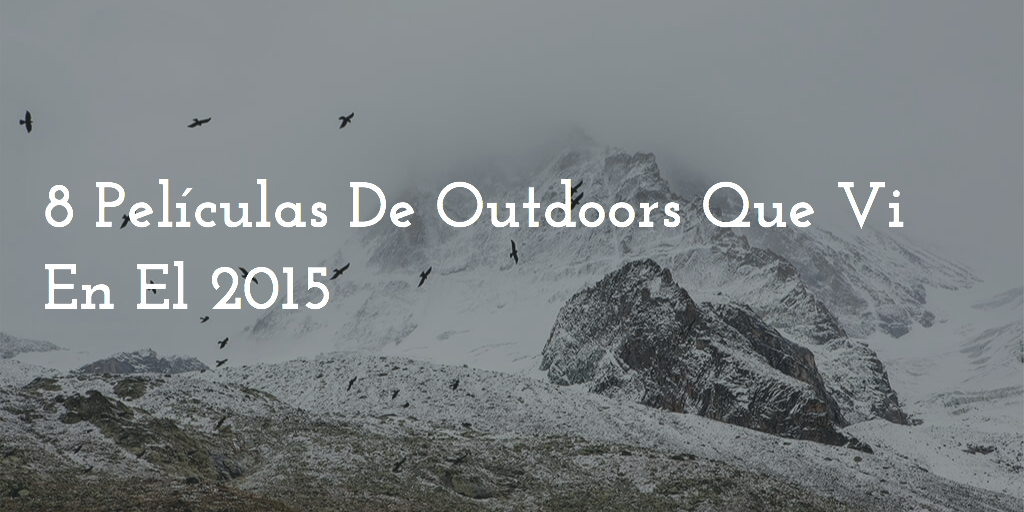 8 Películas de Outdoors que vi en el 2015
El 2015 (y para colar Wild, finales del 2014) trajo varias películas con temas de aventura, viaje y naturaleza. También cuando ves una película te enteras de otras relacionadas, por lo que el año pasado pude ver una selección bastante ecléctica pero enlazada con la idea de viaje, exteriores y exploración. A continuación la lista y mis opiniones sobre cada una. Si ya las viste, estas invitado a darnos tu opinión y si tienes recomendaciones de películas o documentales, compártelas!
Everest (2015): Una de las más famosas del año. Ilustra sin duda la parte de acción y visualmente es excelente, pero personas afines al montañismo puede no agradarles el enfoque negativo hacia los sherpas o el pobre dialogo que no termina de explorar los motivos para conquistar esta montaña, lo que en esa época aún era considerado inalcanzable para muchos ya que apenas iniciaban los grupos comerciales a explorar. También uno de los participantes de la expedición, que tiene su propio libro publicado, no le gustó como fue relatado su personaje. Eso y la cantidad de veces que dicen «O» desesperaba.
Sightseers (2012): Una versión outdoors y europea de «God Bless America«, en la que una pareja viaja a través de diferentes museos y parques naturales desde Inglaterra. En el camino asesinan varías personas y adoptan un Jack Russell Terrier. ADVERTENCIA: Es una comedia negra por lo que solo es recomendable para quienes puedan apreciar el genero.

Meru (2015): Documental sobre el grupo de montañistas que intenta, primero sin éxito, conquistar la cima más difícil de la montaña del mismo nombre ubicada en los Himalayas. Este film no solo se enfoca en lo que sucede durante los intentos ya que también documenta la vida de los participantes para conocer sus motivaciones. En el camino hay accidentes y consecuencias que requerirán de gran perseverancia y disciplina. Fue interesante conocer sobre los personajes y sus relaciones. Visualmente también ofrece excelentes tomas de la aventura.

Interstellar (2014): Esta película seguro la veré por lo menos una vez al año. Fue el inicio de motivación para empezar a tomar en serio el senderismo gracias a la temática centrada en el espíritu explorador del ser humano. Excelente ciencia ficción y diálogos inspiradores (excepto un par, pero perdonable).

Red Knot (2014): Drama sobre una pareja recién casada decide aprovechar su luna de miel viajando en expedición hacia la Antártida. Chloe, la esposa, empieza a sentirse abandonada por su Peter, su esposo. El problema es que se separan pero deben permanecer dentro del barco, complicando la relación. Si les gusta el drama y los pingüinos seguro disfrutarán de esta cinta. Personalmente la sentí larga, a pesar de entender el reto de crear una trama en un barco de investigación hacia la Antártida.

A Lonely Place To Die (2011): Extraña película que encontré en Netflix. Inicia con hermosas vistas de montaña en Escocia y una sesión de rappel improvisada. Pensé tendría más momentos igual de emocionantes pero se convierte en un drama sobre una niña que encuentran casi enterrada en medio del bosque. Durante la trama intentan buscar excusas para mostrar dotes y técnicas de montañismo pero ya no se comparan con las escenas iniciales. Supongo es perfecta para llenar una lista de películas de outdoors en un blog. Mi teoría es que un grupo de montañistas quisieron hacer una película pero solo se las aprobarían si incluían la historia de la niña y gastaron casi todo el presupuesto para las primeras tomas.

Wild (2014): Otra de las más famosas películas del año, basado en el libro de la historia de la protagonista. Personalmente no me siento identificado con la temática pero puedo entender el llamativo. Realmente dudo poder agregar más a la conversación sobre una de las películas que dio que hablar por buena parte del 2015. Buena actuación, dirección, lo que se puede esperar de Hollywood. Debajo el trailer.

Transsiberian (2008): Otra extraña película sobre una pareja que viaja en tren desde China hasta Moscú, conociendo a otro par de aparentemente enamorados. Al parecer la moraleja es que no deben confiar en desconocidos cuando viajas? Me divertí viéndola pero jamás podría tomarla en serio a pesar de pertenecer al genero thriller.
Pendientes por ver (¡y las que me quieran recomendar!)
On the Road (2012): Película basada en el libro de Jack Kerouac. Tengo entendido no fue muy bien recibida.

The Way (2010): Ésta me llama más la atención.
Recuerden compartir sus recomendaciones y si las han visto sus comentarios sobre estas cintas. Gracias!